Living through the divorce process is never easy. Divorce is distressing even under the best of circumstances when spouses agree to part ways amicably in an uncontested divorce. But when a divorce involves hard feelings, bitterness, and contentious legal disputes, the experience significantly affects emotional well-being and sometimes even physical health. It's important to protect yourself legally and emotionally when a divorce becomes contentious, whether the disputes are over child custody, child support, division of marital assets, retention of the family home, or spousal support. And in some cases, there may be contentious arguments about all of those matters.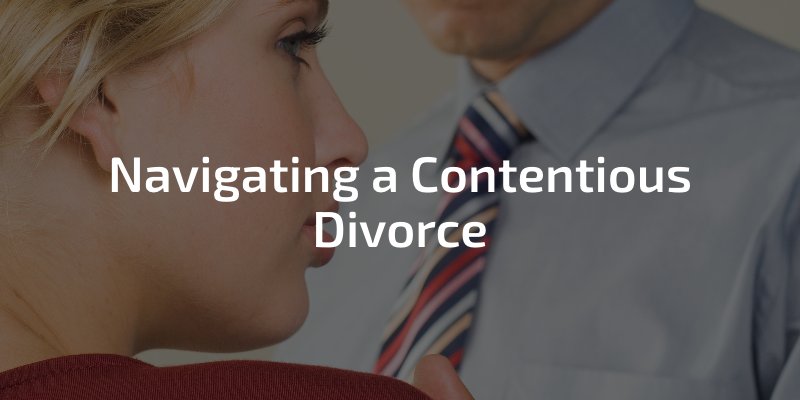 What is a Contentious Divorce?
When divorcing spouses have rancor toward each other, resentment and anger—whether justified or unjustified —often lead to high levels of argument and litigation during the legal processes involved in a divorce. When there is a lack of consensus on the breakdown of marriage either because one spouse doesn't want the divorce, a spouse wishes to hurt or punish the other, or one party wants as many of the marital assets and as large an amount of financial support as possible at the other's expense, the process is said to be "contentious." Contention happens in contested divorces or divorce processes in which both parties cannot agree to an equitable division of their assets or disagree on matters of custody and child support.
Collecting and Presenting Evidence in a Contentious Divorce
Once it's apparent that divorcing spouses cannot come to mutually agreeable terms on their own or with a mediator, the issues under contentious debate must go before the Colorado family court to decide. Both spouses typically have reasons to believe the court should decide in their favor on the issues.
If you are involved in a contentious divorce, it's important to understand how the timeline works in most Colorado contested divorces:
First, both parties and their attorneys meet at an Initial Status Conference (ISC) to collect divorce paperwork and plan the divorce timeline. During this mandatory meeting, the judge may order mediation for spouses with contentious divorce issues to work out. The judge may also issue temporary orders to address important matters such as child custody, visitation, and support during the divorce process.
Next, a discovery process begins where both parties must disclose any relevant information, such as their demands for parenting time, custody, visitation, asset division, child support, and spousal support. Both parties may submit written requests for documents such as full financial disclosures.
There may also be an in-person deposition where both parties must answer questions from the opposing side with complete honesty. In a contentious divorce, an in-person deposition between spouses who are unable to collaborate to come to terms may become very heated.
Counteracting Claims in a Contested Divorce
The ISC and discovery periods of a contentious divorce help both parties to understand what evidence and documents they need to counteract the claims and demands of the other. If one party makes outrageous claims or demands, it may be frustrating, but it can also be helpful for the other party's case. If one spouse can provide evidence to easily disprove outrageous claims by the other during a contentious divorce it often casts doubt in the judge's mind on any further claims by that spouse.
A skilled Denver divorce lawyer understands how to collect and present evidence to formulate a compelling defense against the claims of the opposing spouse before the next court-appointed event to move the divorce forward. In some cases, one side may counteract the claims of the other not only with a good defense strategy but with an "attack approach" of their own by presenting unfavorable evidence against the other's character and behavior.
The Permanent Orders Hearing in a Contentious Colorado Divorce
After both sides discover, collect, and review the claims and requests of the other, the case moves forward. Because Colorado demands a 90-day waiting period after the initial divorce petition, both sides have ample time to gather relevant documents and evidence before the Permanent Orders Hearing. At this hearing the court does the following:
Considers testimony of both parties
Reviews evidence and financial documents presented
Evaluates all relevant testimony and evidence
Issues fact findings and relevant laws related to the evidence
Issues final orders after reviewing both sides of the contentious issues
The final divorce decree issued by the judge gives permanent court orders addressing the following contentious divorce issues:
Child custody, visitation, and child support
Division of all marital assets
Division of debts
Use or access to property, including the family home
Any spousal maintenance payments
Once the judge signs off on the divorce decree the marriage is officially dissolved. Contentious divorces are much more time-consuming and stressful compared to uncontested divorces but are necessary when divorcing spouses cannot come to mutually agreeable terms on their own.